When going on vacation, beaches and mountain towns are great, but, don't forget about a trip to the city!
Rent a timeshare
in the city and enjoy great museums, fine dining and local attractions.
Because city
timeshare rentals
are typically not attached to large resorts, they may not be able to offer as many amenities, like kids clubs and on site activities, but with the excitement of the bustling city around you, you won't need it. Plus, the buildings the timeshare resides are often beautiful and historic with a quaint style and charm you won't see at a Hotel chain. Here are a few suggestions for top timeshares in 3 different big cities.
New York City
Whether you come to the Big Apple to go to the theater, to museums, to Lincoln Center, to Carnegie Hall, - it's all convenient to your Manhattan timeshare rental. Enjoy fine dining, premiere shopping or visit the well known Central Park. Stay at
The Manhattan Club
in the heart of downtown New York for a spacious timeshare unit. Guests often comment on the beauty of the elegant lobby and rave about the state-of-the-art Fitness Center, all in the middle of one of the world's most exciting cities. See all
New York City timeshares
.
San Francisco
The Nob Hill District in San Francisco is a very upscale neighborhood close to Union Square shopping, Chinatown, and of course, the famous cable cars. Top it off with the stunning Grace Cathedral (see photo) and a gorgeous view and you'll want to rent a timeshare at the
Nob Hill Inn
. Originally built in 1907 as a private home, it was owned over the years by railroad tycoons and gold speculators. A stay in this timeshare will make you feel as if you have been transported back to the elegance of San Francisco's Golden Era. See all
San Francisco timeshares
.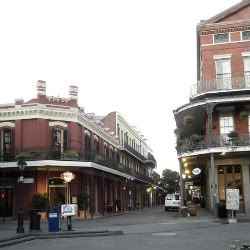 New Orleans
Stroll Bourbon Street, or shop Canal Street and the Riverwalk Marketplace. When you stay at the Wyndham New Orleans at La Belle Maison all these famous sites are close by, including the famed French Quarter (see photo).
Wyndham New Orleans
is a modern resort inside a 100 year old historic building that once was the Franklin Printing Company. It has been meticulously restored to include traditional décor and a beautiful 8-story atrium adorned with skylights and wrought- iron railings. See all
New Orleans timeshares
.