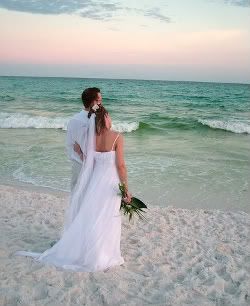 Summer is also known as "Wedding Season," especially the months of May and June. As you plan your big day, consider a "destination wedding." Becoming more and more popular, destination weddings can be anywhere, just so it's out of town and thus as fun for the bride and groom as for "out of town" guests.
This kind of wedding can be more affordable than you might think when you plans include
renting timeshares
. Here are some reasons why a timeshare wedding is the way to go:
A timeshare rental is easy on the budget for your guests who have families and need to find accommodations that include room for their children.


Friends, and relatives, can share a timeshare (you can find units that sleep up to 8) and thus they, too, can cut lodging costs dramatically.


Each timeshare comes with a living room, allowing space for comfort and relaxation, unlike a cramped hotel room.


The fully-equipped kitchen not only saves money on the cost of meals, but is also convenient for breakfasts and snacks.
And consider that the timeshares will be attached to the resort. That means you don't have to plan some way of entertaining your guests every minute. With swimming pools, hot tubs, often tennis courts, golf courses, arcade game rooms, and arts and crafts available, your guests will have plenty to keep them busy while they wait for your "Big Day"!
There are
timeshare rentals
available in such a wonderful variety of locations that you will easily find the perfect destination that suits you. Hawaii and the Caribbean are two places that embody "Romance." If you rent your own timeshare with back to back weeks, you can stay on for your honeymoon, and that would save you money in your wedding budget, too. A
Mexico timeshare
in locations such as Cabo San Lucas, Puerto Vallarta and Cancun are also great wedding/honeymoon destinations. Even your guests with families will find these "romantic" spots very kid-friendly.
If you're dreaming of sugary sand beaches and turquoise jeweled water but feel that a
Caribbean timeshare
or
Hawaii timeshare
is too far, look no further than Florida. The Paradise Coast on the state's west Gulf side has some of the most stunning tropical beaches in the world. Florida's panhandle also offers white sands and emerald waves and there are so many
Florida timeshares
to choose from.
The promise of warm weather and the chance that most out-of-town guests will be able to attend are why summer weddings are so popular. A timeshare destination wedding, no matter where it is, will make YOU popular! Enjoy planning your Big Day!