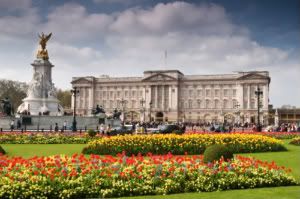 Spring is a great time to visit London, England. Although the weather can be changeable, you'll avoid the summer crowds and hiked up prices. Those in the know advise
renting a timeshare
in London between March and June. During this time you'll get the "most manageable off-season weather," off-season prices, shorter lines at most of the attractions, and London in full spring glory. You can even plan a
timeshare exchange
in other areas of England and take an easy train ride into the capital city.
There are a multitude of quintessential things to do and see in London. A must-see, of course, is Buckingham Palace (see photo). This is the official residence of Queen Elizabeth II when she is in London. (A flag will fly above Buckingham Palace if the Queen is in town.) Tours of the Palace are available during the summer. However, if you're visiting London in the off-season, you'll still get a thrill out of watching the Buckingham Palace changing of the guards. If you're lucky you might even be there on a day to see the Queen's magnificent horse guard march out.
The Tower of London is another popular attraction. Here you can have an entertaining tour by a Beefeater and hear about the incarceration of historical figures, the murders of future kings, and political beheadings. Besides this rather infamous entertainment, you'll also have the unique opportunity to see the Crown Jewels up-close and personal, among them the diamond-encrusted Coronation Crown. And imagine seeing a sparkling red ruby almost the size of a hen's egg.
A cruise on the Thames River will yield even more famous London attractions. You'll motor directly under the Tower Bridge, past a replica of Shakespeare's Globe Theater, past the apartments where Dickens penned many a novel, and past the building where the pirate Captain Kidd was hung. You'll arrive in Greenwhich where you'll see the clipper Cutty Sark, and have the unique experience of straddling two time zones as you stand where Greenwhich Mean Time establishes time as it is observed by the entire world.
The Swedish pop group ABBA, the top-selling band of the '70s, is being celebrated with a touring exhibition in London from January through the end of March, 2010. To resurrect the magic of ABBA, "
ABBAWorld
" creates an interactive and audio-visual exhibition using state-of-the-art multimedia technology, including a stunning 3-D holographic stage show where visitors can actually "perform" with the pop icons.
So plan a
timeshare rental
or exchange in England and give your family a wonderfully unique vacation. And be sure to ride London's ubiquitous red double-decker buses while you're there. Seat the kids on the top deck in the very front for a real thrill, especially when the bus turns corners!